Mary Jones
07.28.20 assignment
Ms. Mary wants to talk about this little guy outside her office door.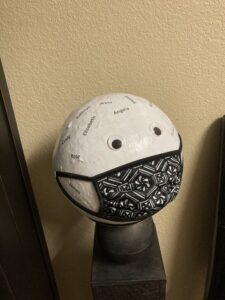 ---
07.7.20 assignment
Ms. Mary is asking everyone to put on their "Puzzle Solving Hats" and try to figure out what each box is trying to tell us. One of the puzzles is "neon lights". Can you guess which one? This is going to be fun! ???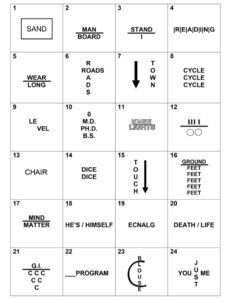 ---
06.23.20 assignment
Ms. Mary is looking for "JOY"… She's asking everyone to see how many times you find the word "JOY" in this photo. She also wants to see if you can give her ideas for finding JOY that start with the letters J – O -Y.. Thank you… And there are more than 10 JOY words in the word search. Let me know how many you find . ?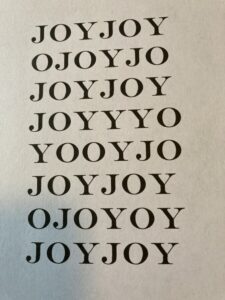 ---
06.16.20 assignment
This week should be a fun challenge this week…Let's make some bugs. Don't forget to send us photos of you with your work. ???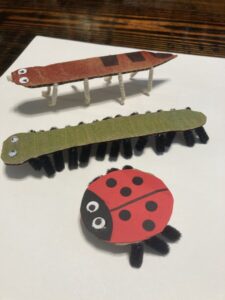 ---
06.09.20 assignment
Here's a good challenge for CRWM students this week. Let us see what you accomplish! You'll be working your body as well as your brain!!! ??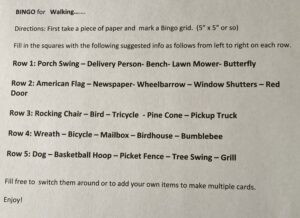 ---
06.02.20 assignment
Here are a couple of photos of Mary's Scrabble game. There are more words to use besides the ones on Mary's list. For this week, work on thinking of words made from the letters in "come read with me". Some of the words might be names of animals you can think of that start with the letter "c". Have fun and remember to send photos of your games to Connie! ?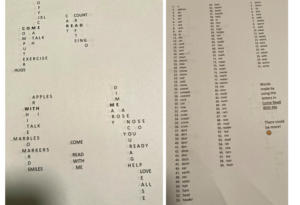 ---
05.26.20 assignment
Mary wants everyone to continue using the letters in the words "come read with me" but she's added a new twist. Let's make a game of Scrabble with the letters. Here is an example of what she's asking you to tackle. Have fun and email your "Scrabble Boards" to Connie.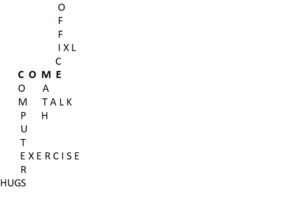 Here's a picture of the words Mary used when working on her "Scrabble Board"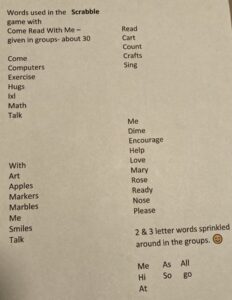 ---
05.12.20 assignment
Ms. Mary is asking everyone to find how many words you can make from the letters of "come read with me". The words need to start with the letters and has something to do with or is at Come Read with Me. (example: c – chair; e – excitement)" ?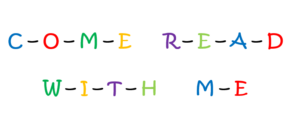 ---
05.05.20 assignment
"You can make a special Mother's Day card for your mom. Be creative, use stickers or anything you like. But don't tell Mom until you give it to her. It's supposed to be a surprise!"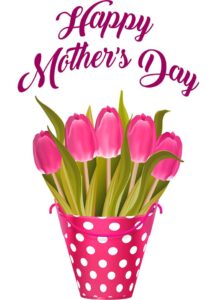 ---
04.28.20 assignment
"Take the letters in "come read with me" and see how many words you can make as well as how many people can find 100 words by next week." ?